Estrategia d'actuació en l'espai públic de Villena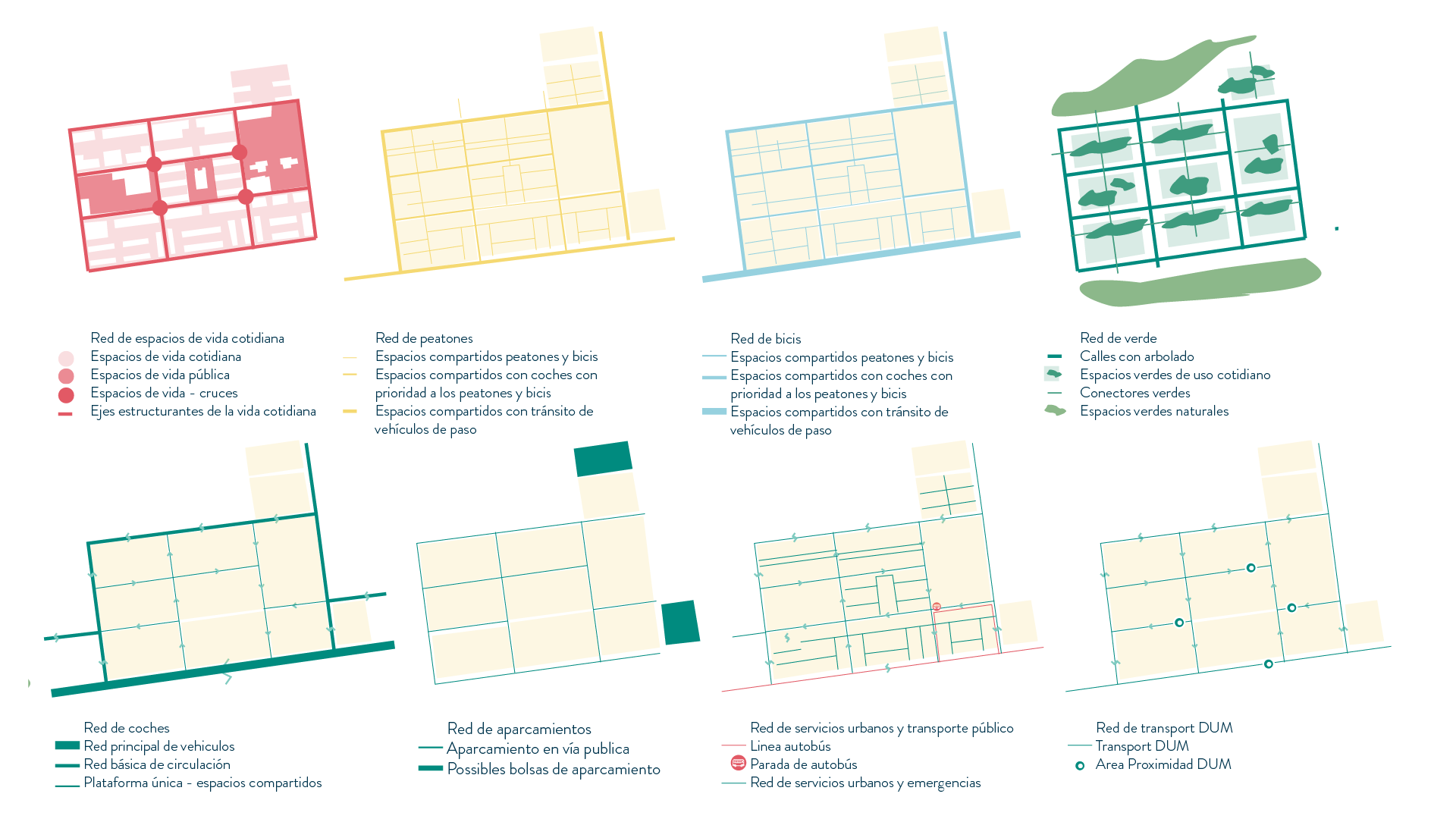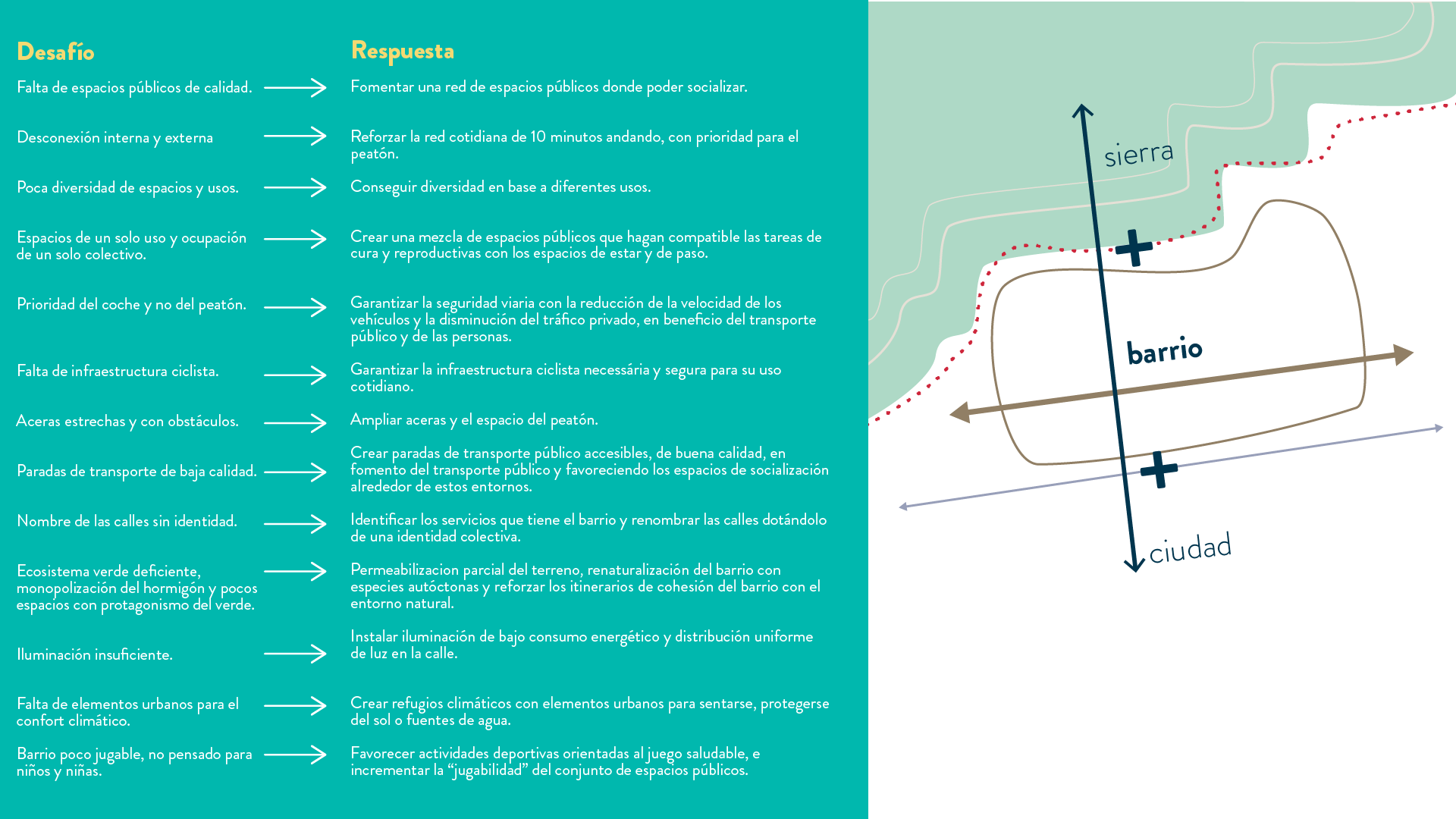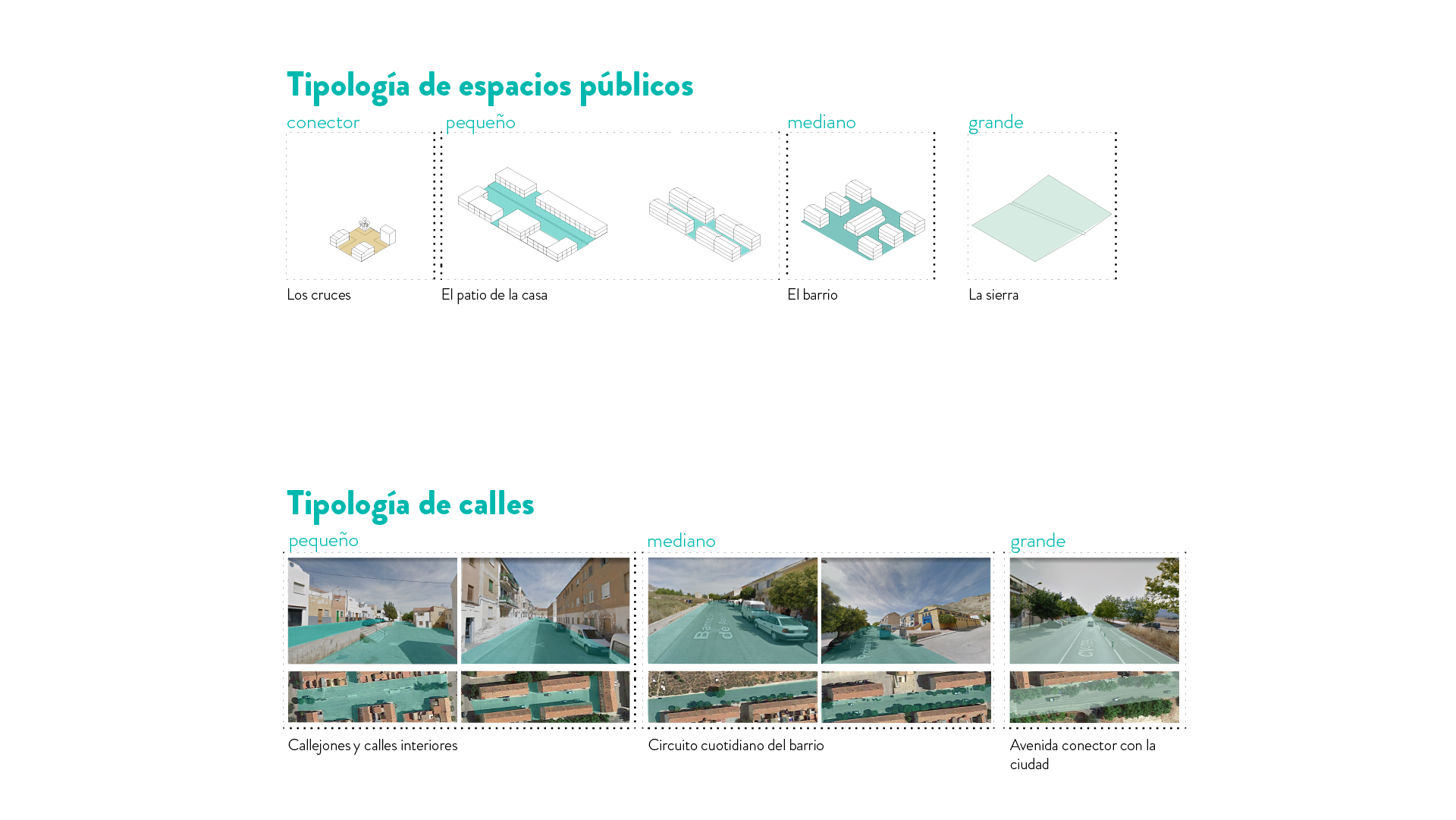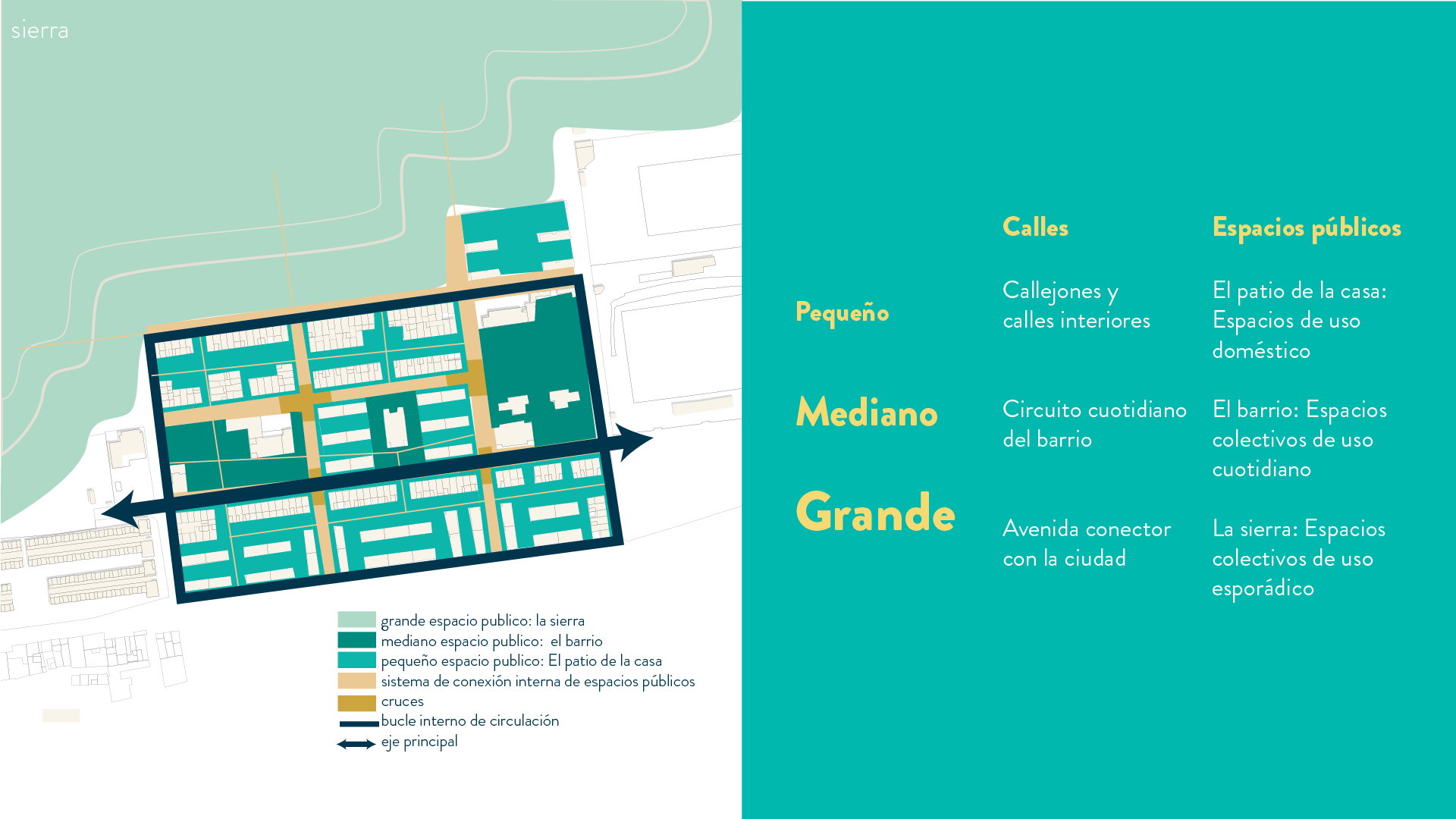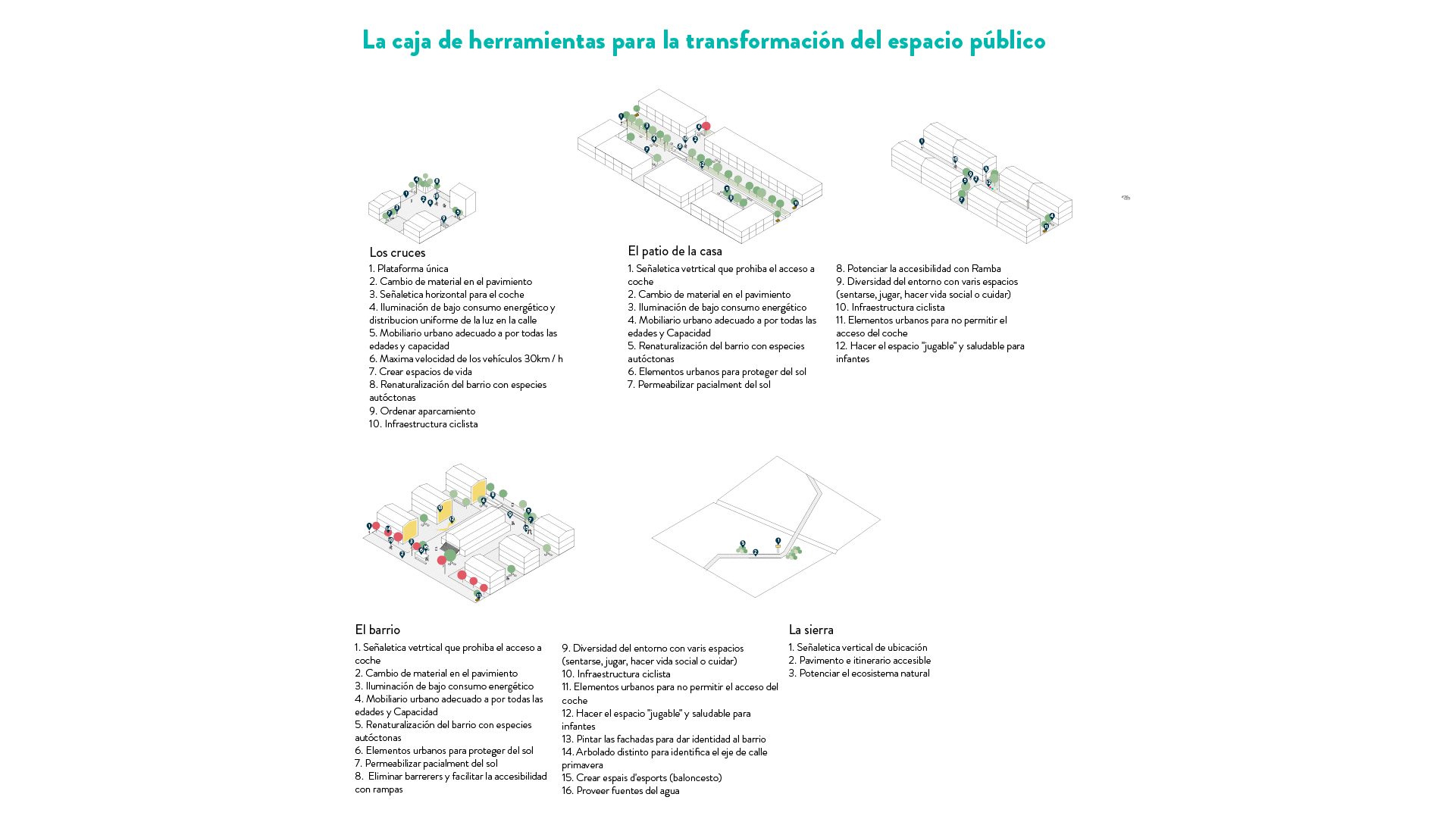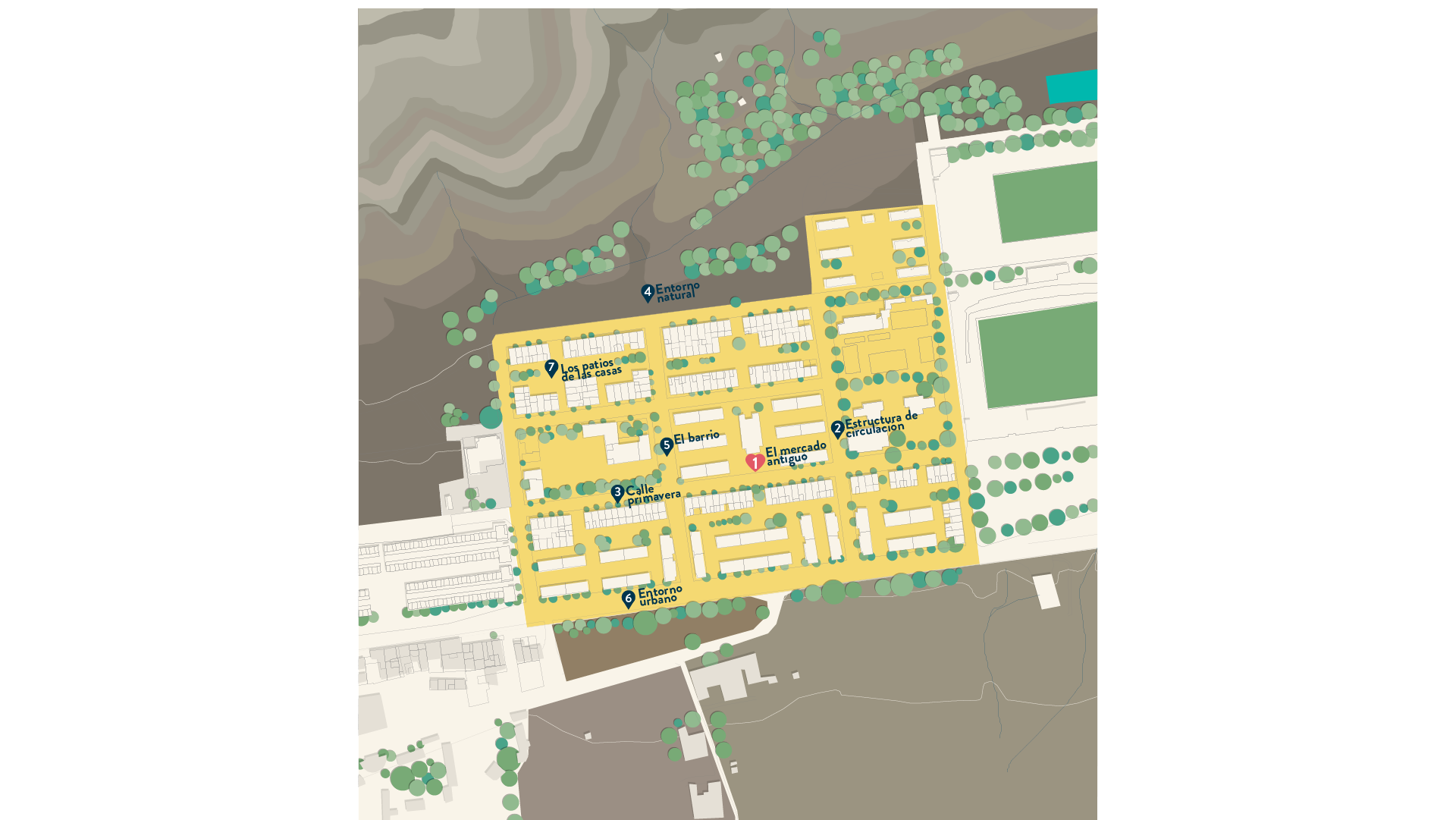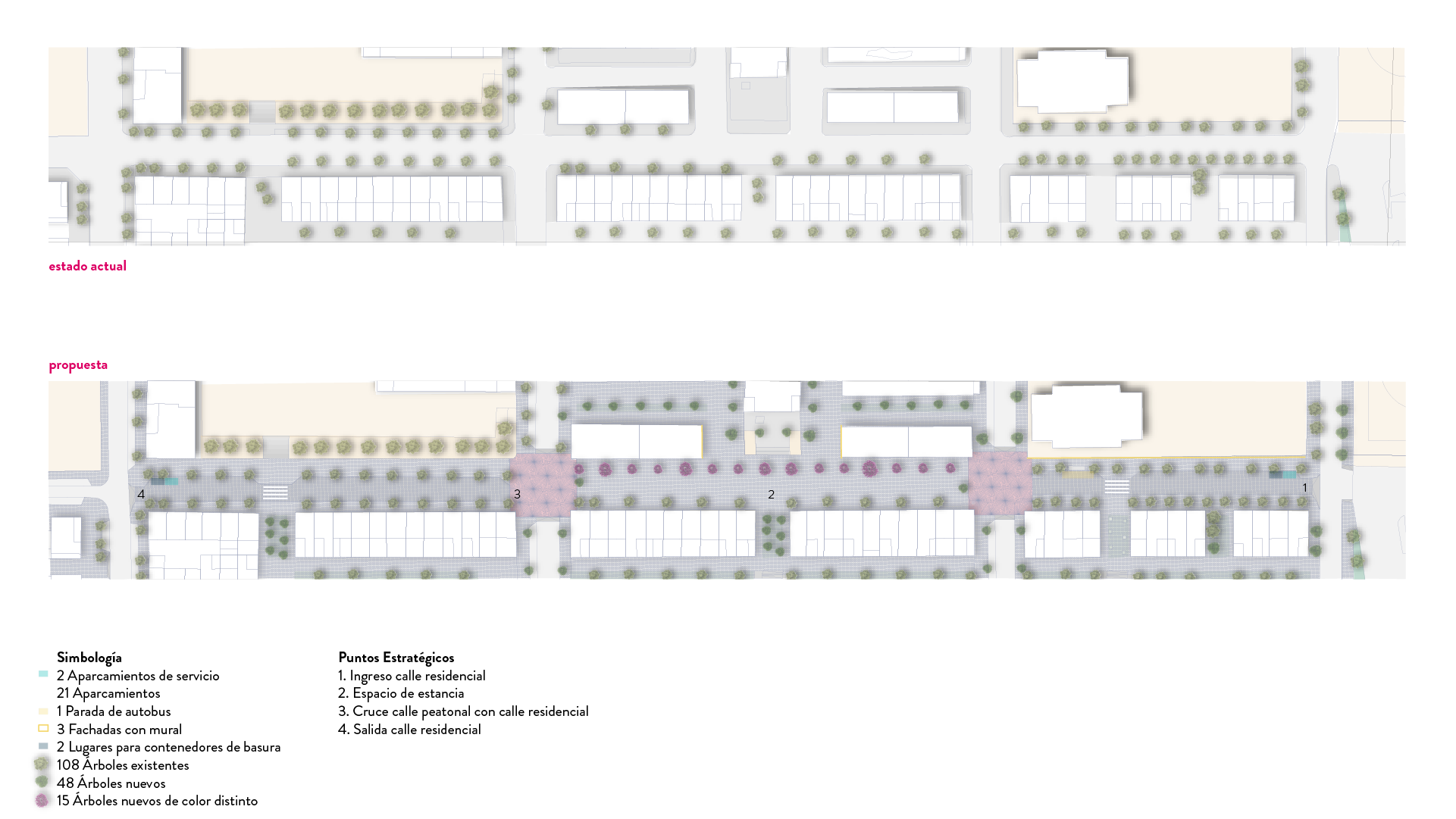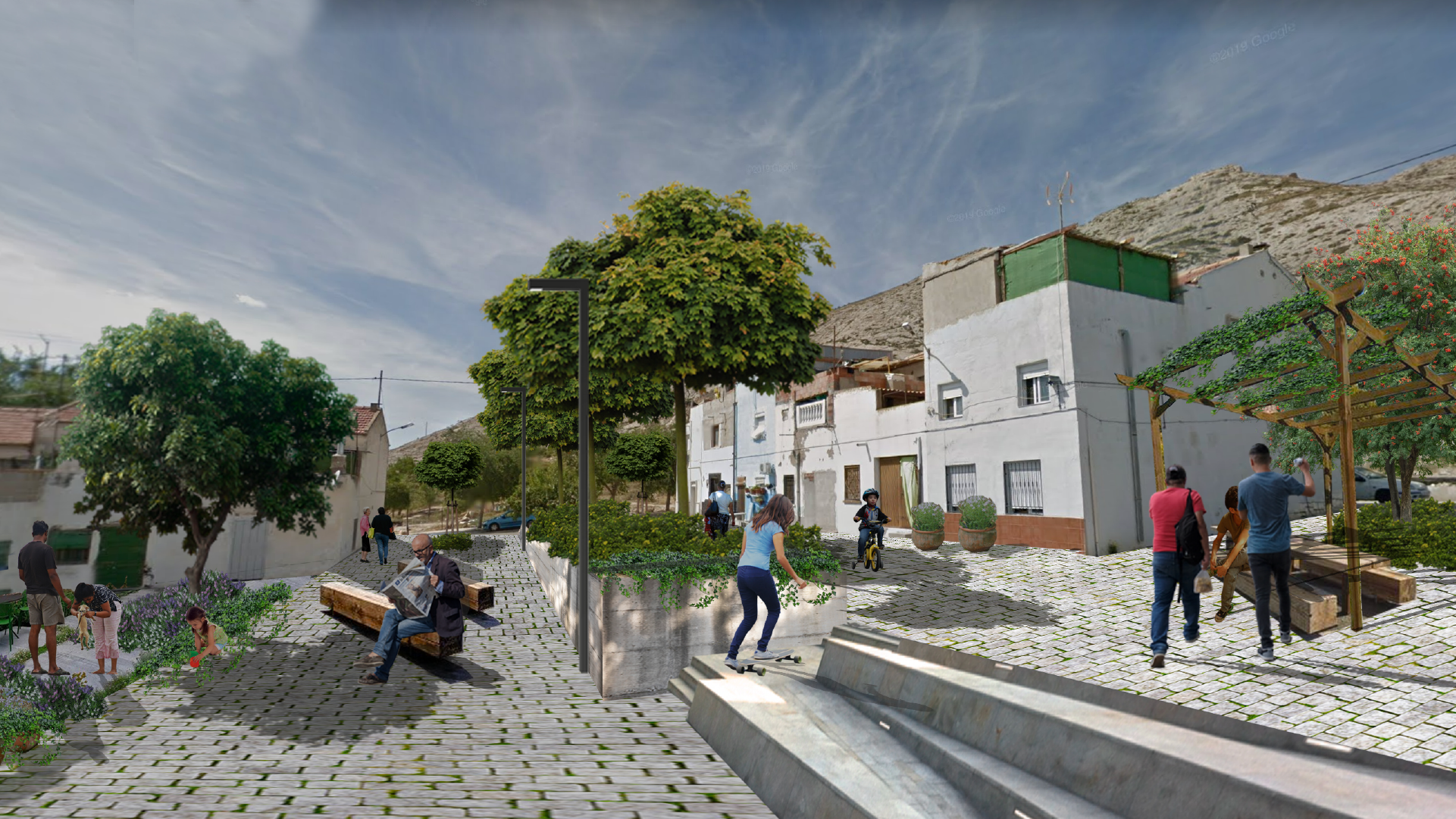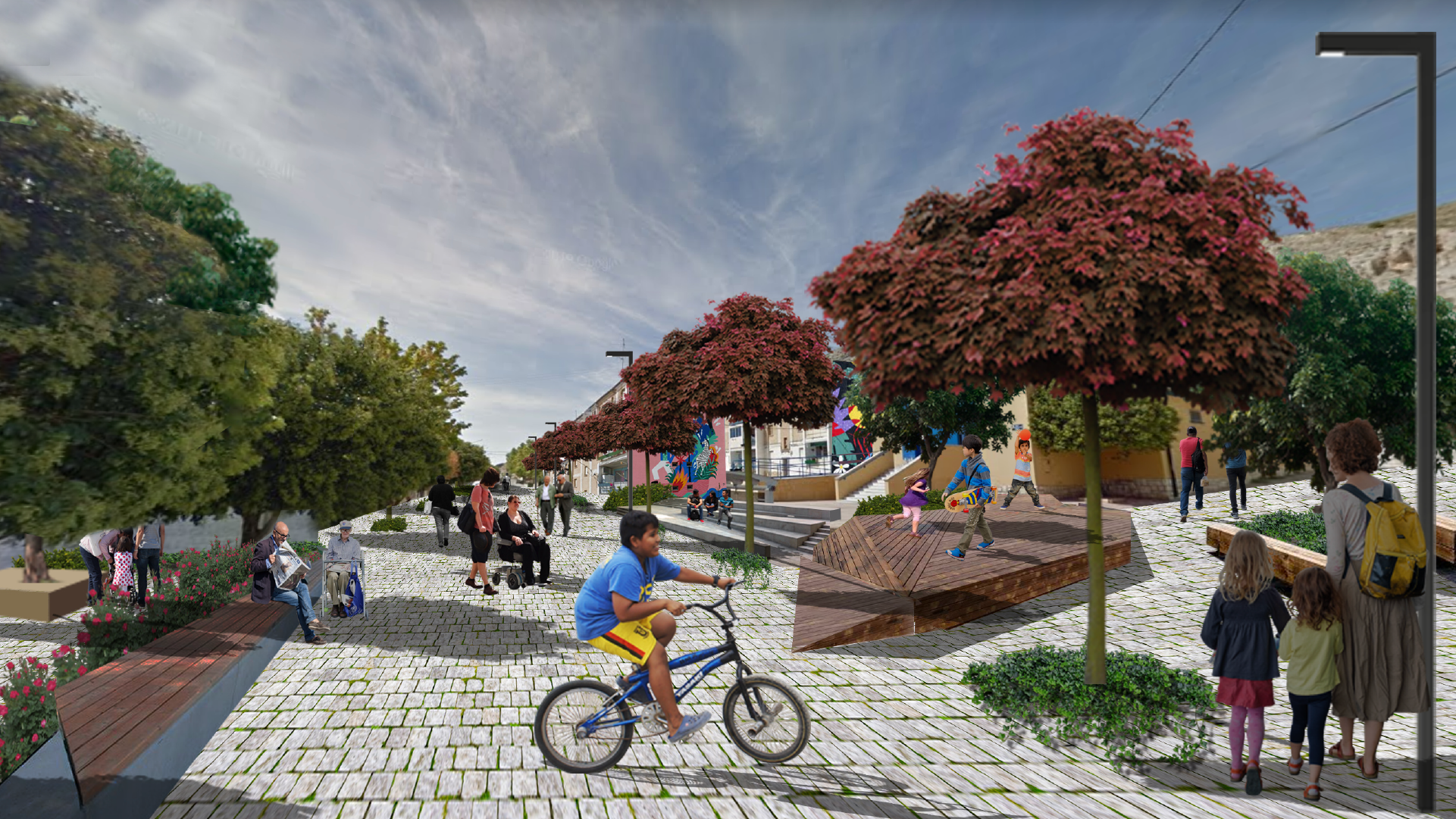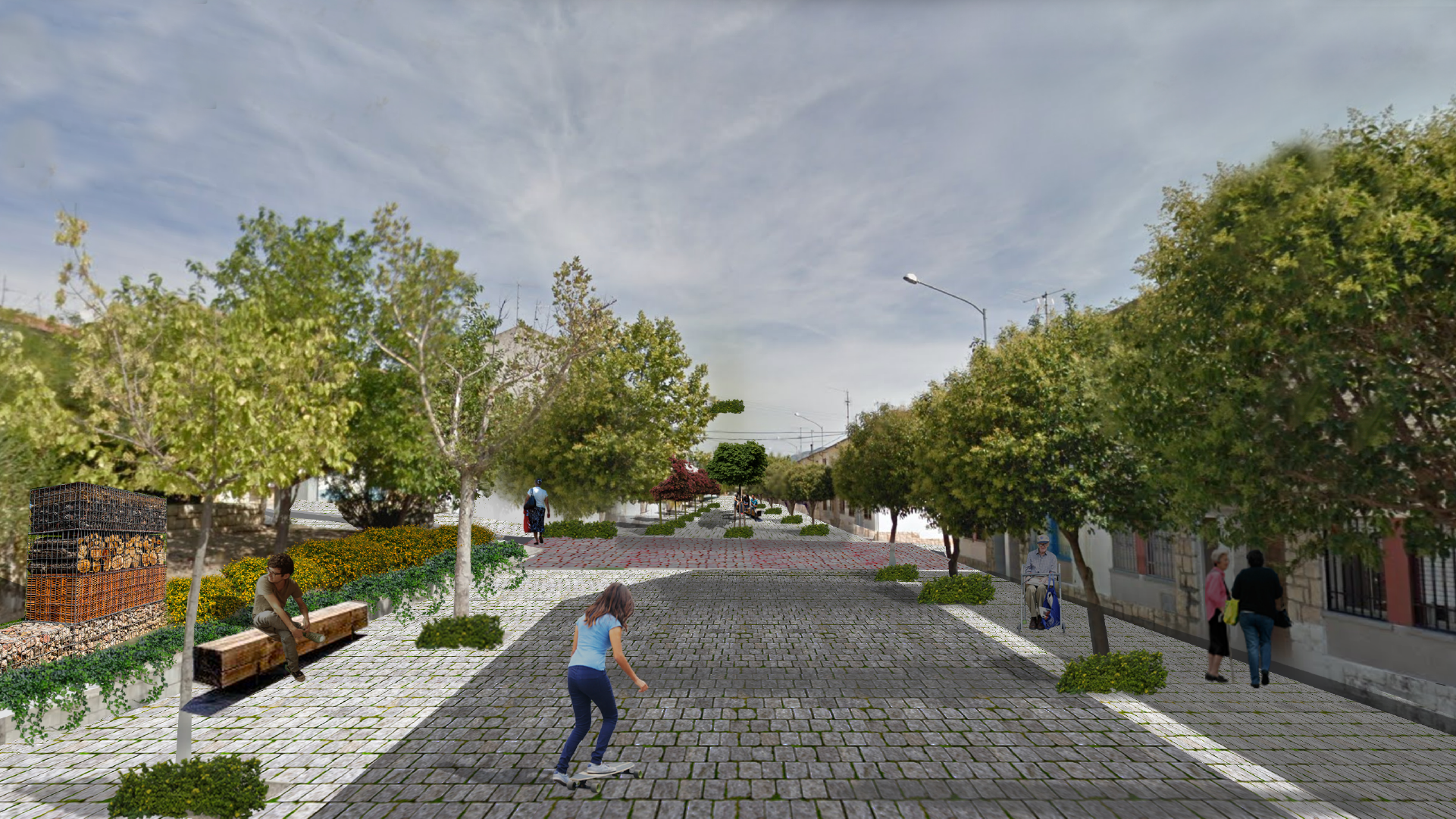 The Action Strategy for the public space of San Francisco neighborhood is proposed in parallel to the social improvements described in the Community Plan. It has the aim that the actions that are described in it have a comprehensive and holistic nature, understanding and addressing the urban environments as ecosystems, where all the parts that consisted of them are interconnected. 
In this sense, the proposals are organized as a "masterplan", and they attend to address all these variables, collecting the complexity of an environment like this. Ultimately, the objective is to increase the quality of life of the people who live here, improving the conditions of their physical space, especially in public environments and community spaces, facilitating everyday life and each action linked to the reproductive tasks, often forgotten by traditional urban planning.
Another of the project's main objectives is to improve the neighbourhood's connections, both internal and external, favouring better and more direct relations with the rest of the municipality and the surrounding territory. It is of special relevance to rethink the networks associated with mobility (vehicles, cyclists, pedestrians …), and the rest of the networks and connections, related to green networks, public services.
Action strategy for the public space
The action strategy described below aims to address numerous variables that must be developed in parallel and over time, but without forgetting the overall idea, which guarantees coherence between all of them and allows the ability to generate synergies between them.
By way of summary, we can affirm that the main intention of the project is to deploy a new urban structure, based on concrete actions, that allows to reinforce the everyday life of the neighbours, improving the living conditions of their neihgborhood's public spaces and streets, as well as of the community buildings that comprise it.
All these wills are specified in these seven points described below:
Pacification of the Old Market Square.
Transform the Market Square into an active and multifunctional space, designed to attract events and diverse uses throughout the year, while improving both living and passing spaces. Its centrality, as well as the diversity of uses of the environment, invites people from different groups to use these spaces. In addition, at the mobility level, it is proposed to prohibit the passage of vehicles at this point, showing that the dominant use is that of people, preventing cars from using this axis to cross the neighbourhood in a longitudinal direction.
Tackle the hierarchy of the road network as "superblocks".
The San Francisco neighbourhood has the right conditions, so to apply principles similar to those known as "superblocks". A "superblock" is a larger urban organization unit than a traditional island that provides solutions to the main mobility-related dysfunctions while improving the availability and quality of space for pedestrians. The aim of this strategy is to establish a new hierarchy of the road network, differentiating the passage of vehicles and the pedestrian priority axes.
Definition of Avenue de la Primavera as the main civic axis.
Transform Avenue de la Primavera into the main civic axis of the neighborhood, turning the space of the old Market into a pedestrian area and thus breaking the longitudinality of the axis. In this way, this axis offers a large continuous, and quality surface, which invites you to play informally, ride a bike, and pass time. This street takes on a great relevance in the new identity of the neighborhood, so apart from the architectural proposal, It is proposed to do some kind of artistic intervention on the facades.
Improved connection with the natural environment.
It is proposed to re-connect the neighborhood with its natural environment, by connecting the pedestrian spaces with the main ecological corridors of the mountains. In this way, it is possible to treat the natural landscape as a bigger public space for the people of the neighborhood, structured around the network of natural paths, which, as well as routes, are also meeting points for residents.
Improvement of the continuity of the public space
Connect the interior spaces of the neighborhood with quality pedestrian spaces, with platform streets designed mainly for pedestrians and bicycles, vegetation, play spaces, and activities.
Optimize the connection with the centre of Villena
Update and improve communications with Villena's center, implementing accessible and comfortable itineraries for bicycles and pedestrians that allow residents to move more comfortably, but also invite people from other neighborhoods to visit San Francisco neighborhood.
Transform the interior spaces of the islands into community "gardens"
It is proposed to convert some interior spaces of the blocks into living spaces, which can act almost as extensions of the houses, with native vegetation, play spaces, and urban furniture that facilitate socialization. It is of main importance that the architectural proposal of each one of these patios recognizes the differences between them, depending on their location, their preexistence, or the neighbours who live nearby. In this way, each community will be allowed to have its own identity, favouring the feeling of belonging to an environment and a community.
El projecte s'inicia amb l'objectiu de donar continuïtat a l'estudi de Camins Escolars que s'havia realitzat recentment amb la participació de l'Escola Riera de Ribes entre d'altres. La proposta doncs, recull la voluntat d'una part molt significativa de les persones del barri per millorar les condicions de l'Avinguda 11 de Setembre i el Passeig de la Circumval·lació, eixos amb una importància significativa a l'hora d'unir el nucli antic del poble i diversos equipaments comunitaris com el CAP, el poliesportiu o el mateix centre educatiu.
La proposta parteix del fet revertir la situació actual on el cotxe és el principal protagonista de l'espai i atorgar aquest paper al vianant i a les persones que hi circulen tant en bicicleta com en patinet. La implantació d'un carril bici i la millora de les voreres actuals, tant a escala d'accessibilitat com de confort, són els principals objectius que s'han perseguit. En aquesta línia, també, s'ha fet una aposta per implantar vegetació de diferents ports, per tal d'augmentar el nivell de permeabilitat del sòl i enriquir la biodiversitat del barri, alhora que es millora l'experiència perceptiva de tothom qui realitza aquests itineraris.
Es van desenvolupar diverses eines per incorporar les necessitats dels habitants, desplegant-les a manera de procés conjunt d'aprenentatge basat en projectes. Espais per al diàleg intergeneracional i l'intercanvi de records i experiències, marxes exploratòries cap a l'antic camp de futbol, activitats lúdiques i jocs per a la incorporació de la perspectiva de joves i infants al projecte i sessions informatives amb experts en economia social i projectes esportius. Aquestes eines han facilitat una estreta i efectiva cooperació ciutadana i administrativa.
El resultat d'aquest procés és un avantprojecte de parc urbà multifuncional que incorpora diverses estratègies de desenvolupament policèntric del municipi: integració mediambiental, programació esportiva, equipaments per a manteniment i d'usos adaptables, espais escènics,…
L'estratègia participativa no acaba en la fase de planificació. La implicació dels habitants també durant l'execució del projecte i l'activació de el parc és un actiu demostrat en les cures de l'espai públic, ja que tota la comunitat es corresponsabilitza, se'ls apropia i els respecta molt més.
Place
Villena, San Fransisco neighborhood
[33,983  inhabitants]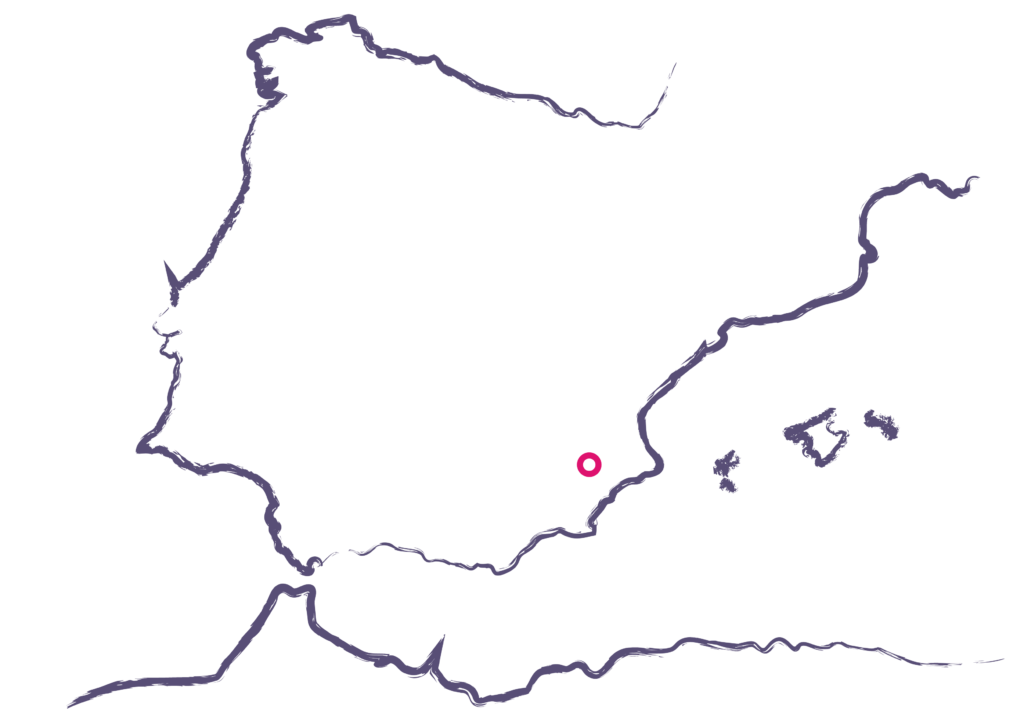 Type of project
Urban Strategies
Promoter
Municipality of Villena
Team
Coordination of the Strategic Plan: 
monoDestudio
Strategies for Actions in public space
and Preliminary Project for Primavera Street:
 *estel (Konstantina Chrysostomou,
Marc Deu i Ferrer, Alba Dominguez
Ferrer, Arnau Boix i Pla)